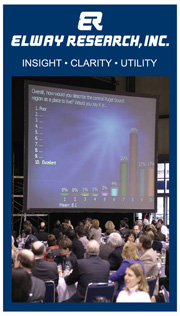 PUTTING RESEARCH TO WORK
Elway Research, Inc. specializes in research for the development of communication strategies. Since 1975, we have conducted research and evaluation projects for governmental agencies at all levels; major corporations; small businesses; media outlets; non-profit organizations; associations; foundations; and election campaigns.
We have developed a strong reputation for strategic research of the highest quality and utility.
Some of the uses to which our research has been put are:
Advertising Development, Testing & Evaluation
Attitude, Awareness & Behavior Studies · Audience Research
Budget Prioritization · Campaign Strategy Development
Citizen Engagement · Government Services Evaluation
Community Relations · Community Visioning · Communication Audits
Conference Evaluation · Customer / Patient Satisfaction
Economic Development Strategies · Election Post Mortems
Employee Satisfaction · Institutional Name Change · Needs Assessment
New Product Development · Organizational Goal Setting
Performance Measures · Program Evaluation · Market Segmentation
Social Marketing · Trial Preparation