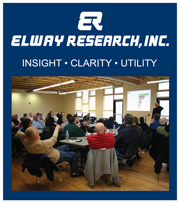 Opinion research is systematic listening.
METHODS AND SERVICES
Effective communication starts with listening. Opinion research is systematic listening to people with whom you need to communicate.
Every element of a research project – sample, questionnaire, method, analysis, budget – affects every other element. Research design is the balancing of these factors to maximize the utility of the findings.
You won't get cookie cutter research from us. We collaborate closely with you to custom-design every research project to effectively match the method to your research objectives and constraints.
Some of the methods we use to produce useful information include:
SURVEY RESEARCH: Telephone, Online, Mail, Electronic, Multi-mode.
Local, State, Regional, National. Overnight, Longitudinal.
Voters, Neighbors, Citizens, Community Leaders Stakeholders, Employees, Business Owners, Customers.
INTERACTIVE POLLING: We lead a representative group of your target audience through a facilitated discussion interspersing poll questions, large group discussion, table work, and/or response to audio/visual material. Participants respond anonymously via handheld keypads which tabulate and display the results instantly. Follow-up discussions of results deepens your understanding of participant thinking.
FOCUS GROUPS: In-depth, facilitated discussion by small representative groups of your target audience. There is nothing like watching a group of your public have a candid conversation about your program/issue.
KEY PERSON INTERVIEWS: We interview key people in positions important to you and compile their views.
PUBLIC OPINION MONITOR: The Crosscut.Elway Poll has been measuring public opinion in the Northwest across a wide range of issues since 1992. The poll is published quarterly at Crosscut.com.